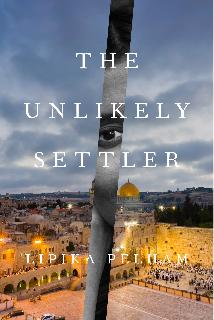 The Unlikely Settler
The Israeli-Palestinian conflict seen by an outsider who craves to make sense of herself and the city she lives in.
Lipika Pelham's memoir is a fascinating study of the schizophrenic atmosphere of Jerusalem, the Kafkaesque dynamics of life for the Palestinians, the dramatic political divisions within the Israeli community, the frequent need to disguise one's identity, and the tortured logic of what one can do or say, or the language in which to say it. Jerusalem propels Lipika into a world where freedom from tribal allegiance is a challenging prospect. From the school you choose for your children to the wine you buy, you take sides at every turn. As she tries to navigate the complexities and absurdities of daily life in Jerusalem, the author achieves deep insights into the respective woes and guilt of her Palestinian and Israeli friends. Her intelligent analysis suggests a very different approach to a potential resolution of the conflict.
Reviews
"It's fascinating and refreshing to see everyday life in Jerusalem through the sharp, affectionate eyes of Lipika Pelham as she encounters and befriends zionists, ulra orthodox Haredis, Arab Jews, left wing intellectuals, Israeli Arabs, Palestinians, Bedouins, Christians, expatriates and international peace-keepers in this city of warring sides and emotional flare-ups. It helps to understand the complexities of the Israeli Palestinian conflict."
– Claudia Roden, author of "The Book of Jewish Food"
"[In this] distinctive memoir […] Pelham capably describes the schizophrenic atmosphere of today's Israel/Palestine, the Kafkaesque dynamics of life for the Palestinians, the dramatic political divisions within the Israeli community, the frequent need to disguise one's identity, and the tortured logic of what one can do or say, or the language in which to say it."
– Booklist
"A touching personal delineation of divided loyalties and riven hearts."
– Kirkus
"She helped me understand the Israel/Palestine situation much more deeply – so much so that I am again reminded that black and white views can only arise from ignorance, because the more you learn about a subject, the more complex it becomes."
– Interview in Tweed's
"Personal drama and inner conflicts are intertwined naturally with the dramas and conflicts of the outside world in this emotionally moving memoir."
– Zeruya Shalev, author of "The Remains of Love"